WELCOME TO YOUR NEW KENORA CURLING CLUB WEBSITE
Youth Curling Registration

September 27, 2023

Youth Curling Registration now open for Tiny Rocks, Little Rocks & Junior Curling. Click on the header Club and click register to the club if you have not been a past member. Sign in if you are a past member. Contact Crystal if you require assistance with the registration process.
Kenora Curling Club Annual General Meeting and Registration Night SEPT 21st 7:00 p.m.

September 09, 2023

Hello KCC Members! I hope everyone had a wonderful summer. It's that time of year again! Our Annual General Meeting & Registration Night is Thursday, September 21st at 7:00 p.m. at the Club. We are encouraging as many members as possible to attend. If you need assistance with the registration process we will be there to assist. We are also looking for 4-5 new board members so if this is something you might be interested in please reach out to a Board member or come out on the 21st. Remember this club cannot run without our Board of Directors and volunteers. Registration is now live on this website so be sure to sign up as soon as possible as some of our leagues fill up quickly. Tentative start date is the week of October 16th but we will confirm closer to that date. As always let us know if you have any questions. :)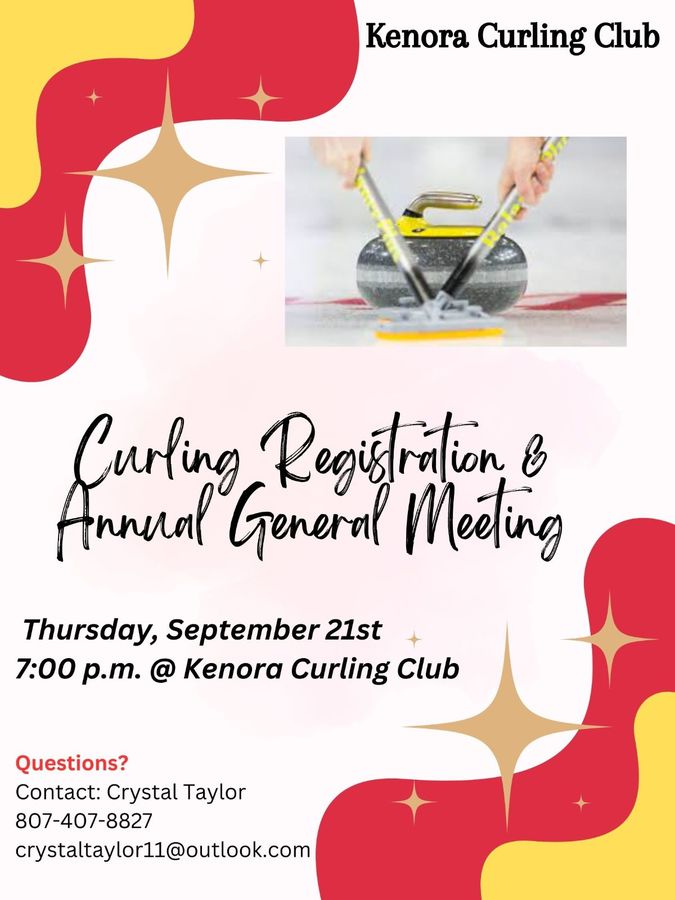 DED TYRED of Sweeping?

March 09, 2023

Kenora Curling Club is presenting the 2023 All League Banquet - DED TYRED of Sweeping? on Friday, April 14th. Tickets are $35 and include dinner and live music entertainment. Members are encouraged to bring out their partner or a friend for an evening of fun! Live music will be provided by DED TYRED.

Members are asked to fill out the registration form under the Tab - DED TYRED of Sweeping? BANQUET on the Kenora Curling Club website or by clicking on link below. Please submit one form for each person coming.

DED TYRED of Sweeping? BANQUET - Kenora Curling Club

Payment can be made by etransfer to kenoracu[email protected] or by cash to their league rep by April 2nd.

We look forward to having everyone together for a night of celebration of a successful season of curling!
NOCA 2023 Men's & Women's Provincial Playdowns

January 19, 2023

We are under a week away from NOCA 2023 Men's and Women's Provincial Play Downs 🥌 being played at the Kenora Recreation Centre.

You can purchase tickets at the Lake of the Woods Discovery Centre, Kenora's Home Hardware, or online at www.kenoracurlingclub.com

Event Pass for January 25-29 are $75 each 🥌

Day Passes for January 25, 26, 27, 28 are $15 each 🥌

Semi Finals Draw Pass for January 29 are $20 each 🥌

Championship Draw Pass for January 29 are $25 each 🥌

Tickets will also be available January 25-29 at the City Of Kenora Kenora Recreation Centre during the event. 🥌
Kenora Ladies/Mixed Bonspiel

January 10, 2023

Register now for the Kenora Ladies/Mixed Bonspiel February 3-5, 2023. Men must play front end. Contact Karen Liske at 807-407-3775 for more information or to register now!